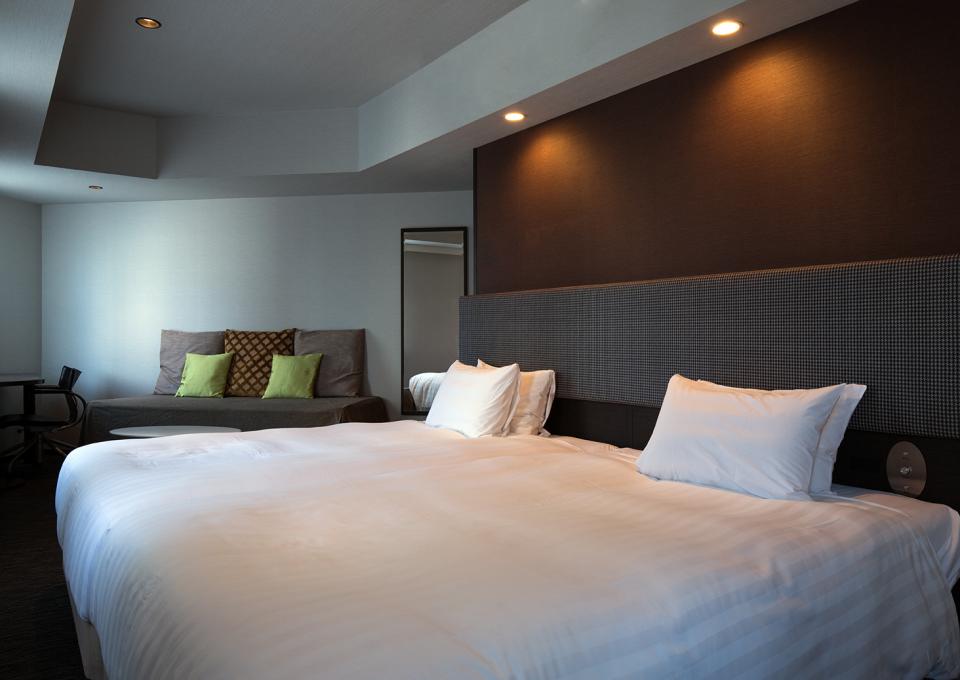 Hotel Deals in Shinjuku: Budget Stays in the Heart of Tokyo
When traveling to Tokyo, you'll want to be in a central location so you can visit many attractions with ease. It's hard to find a better spot than Shinjuku.
Shinjuku is the most populous district in the whole of Japan, and home of the current record holder for the busiest railway station in the planet, Shinjuku Station, which averages 3.6 million passengers a day. If you are planning to visit Shinjuku, you might want to stay in lodging that can give you a much needed respite from the dizzying din of the city.

Here is a list of hotels that offer best value for money for a safe, snug, and serene place to stay in Shinjuku. These places promise highly personable services and inexpensive yet comfortable sleeping environments to end your day well, after enjoying the excitement and exuberance of the most vibrant district in Tokyo, Japan.
1. Hotel Sunroute Plaza Shinjuku
Located in the center of Shinjuku's business district and about 3 minutes walk away from JR Shinjuku Station, Hotel Sunroute Plaza is very ideal for both business travelers and vacationers. Nearby tourists spots that are mere minutes away by railway are the Meiji Shrine, The Imperial Palace, and Tokyo Skytree (the tallest building in Japan standing at the height of 634 meters). Tsukiji Market is also within reach if you fancy really fresh sushi.

The average room rate for this hotel starts at a mere US$103/night for a Standard Single Room. They also have the Economy Double Room, Standard Queen Room, Deluxe King Room, Standard Twin Room, and the Standard Twin Room with Sofa Bed for just a little over US$200/night. All accommodations come with complimentary breakfast plus in-room amenities such as private toilet and bath, a flat screen TV with cable channels, and Wi-Fi Internet. Hotel Sunroute Plaza also offers generous discount packages for Early Bird Booking and for long stays.

Address: 3-2-1 Yoyogi, Shibuya-Ku, Tokyo 151-0053 Japan
Telephone: +81-(0) 3-3375-3211
2. Shinjuku Prince Hotel
Directly connected to the Seibu-Shinjuku Station through its 2nd floor, the Shinjuku Prince Hotel puts you within just 5 minutes' walk from the subway and JR line. The hotel is also in close proximity to the Tokyo Metropolitan Government Building and various major districts in Tokyo such as Ginza, Kasumigaseki, and Marunouchi. Nearby tourists attractions are the Shinjuku Gyoen National Garden and the Hanazono Shinto Shrine.

Basic room package with breakfast starts at US$114/night, and the hotel has standard Single Rooms, Twin Rooms, and Double Rooms that you can choose from. All of which have private toilet and bath, a flat screen TV, Wi-Fi Internet, and other common amenities for a convenient and pleasant stay. Shinjuku Prince Hotel also offers a 5% discount on room rates if you book 45 days early or if you will stay for at least 3 consecutive nights.

Address: 1-30-1 Kabuki-cho, Shinjuku, Tokyo 160-8487 Japan
Telephone: +81-(0) 3-3205-1111
3. E-Hotel Higashi Shinjuku
Located just a few steps away from the Higashi-Shinjuku Station, E-Hotel makes commuting to various major districts in Tokyo convenient. You can easily go to Ginza, Roppongi, Shibuya, Akasuka, and even Yokohama via the Japan Railway system coming from the hotel. Kabuki-cho (the entertainment and red-light district of Shinjuku) is just within the neighborhood, while popular shopping centers such as Isetan and Times Square Takashimaya are within walking distance. Gyoen National Park is also nearby if you are in the mood to have a relaxing morning stroll in lush green surroundings.

The average room rate starts at US$110/night, but the hotel has promotional offers such as a 20% discount if you will stay for 2 nights or more, or a 15% discount if you will confirm booking at least 30 days prior to the date of your stay. Guest rooms available are Single, Double, Economy Twin, and Standard Twin. Inclusion of breakfast in your room package is optional. All rooms have the standard modern amenities such as a flat screen TV, Wi-Fi Internet, and others.

Address: 2-3-15 Kabuki-cho, Shinjuku-ku, Tokyo 160-8487 Japan
Telephone: +81-(0) 3-5287-3588
4. Shinjuku Washington Hotel
Located in the heart of the metropolis, Shinjuku Washington Hotel is just a few minutes away from major shopping and entertainment centers in the district, and just a few steps to the Tokyo Metropolitan Government Building. The hotel has 2 high-rise buildings that are adjacent to each other – the original main and the newer annex. You can get a good view of the city from your room window in either building.

The average room rate starts at US$99/night, which includes breakfast. You can get a 5% discount if you book your room at least 60 days early or if you will stay for at least 3 consecutive nights. They have single, twin, and triple rooms available, all with air-conditioning, private toilet and bath, a flat screen TV, and free Wi-Fi. The hotel has four restaurants, with the premier one located on the 25th floor of the main building called Manhattan Table.

Address: 3-2-9 Nishishinjuku, Shinjuku, Tokyo 160-8336 Japan
Telephone: +81-(0) 3-3343-3111
5. Tokyu Stay Shinjuku
The hotel is just about a minute's walk away from the C3 exit of Shinjuku-Sanchome Station and is close to major shopping malls like Isetan, Bic-qlo, and Takashimaya. Tokyu Stay Hotel is also walking distance from Shinjuku Gyoen Park where you can commune with nature and get a break from the fast-paced life in the district.

Average room rates start at US$129/night for the basic single room. They also have rooms with kitchenettes that are equipped with a microwave oven and a washer and dryer, which come in handy if you're in for a long stay. Other standard in-room amenities are a flat screen TV, Wi-Fi and LAN Internet, a trouser press, toiletries, and housekeeping services. The hotel also serves Japanese & Western Style Buffet Breakfast at 371 Bar.

Address: 3-7-1 Shinjuku, Shinjuku-ku, Tokyo 160-0022 Japan
Telephone: +81-(0) 3-3353-0109
6. Hotel Ibis Tokyo Shinjuku
Located in the neighborhood of Shinjuku's shopping and entertainment district, The Ibis Hotel Shinjuku brings you close to various points of interest in the district, whether you are in town for business or vacation. The hotel is also conveniently close to the subway and metro train station.

Average room rates start at US$109/night with buffet breakfast. The hotel has a total of 206 rooms that range from standard single rooms and twin rooms with single beds and a private toilet and shower, as well as standard and superior rooms with double beds and a bathroom with bathtub. Other in-room amenities are a flat screen TV, Wi-Fi Internet, a trouser press, and a hair dryer. There is also an on-site restaurant and a bar.

Address: 7-10-5 Nishi-Shinjuku, Shinjuku-ku, Tokyo 160-0023 Japan
Telephone: +81-(0) 3-3361-1111
Website: http://www.ibis.com/gb/hotel-8620-ibis-tokyo-shinjuku/index.shtml
7. Flexstay Inn Iidabashi
If you are looking for a really cheap but clean and comfortable place to stay, then Flexstay Inn should be on the top of your list of hotel options. The hotel is close to Shinjuku's entertainment district and Akihabara Electric Town, a major shopping center for electronic products and otaku goods for manga and anime enthusiasts. Nearby tourist attractions are Tokyo Dome City, Nippon Budokan, Sunshine City, and Roppongo Hills, all of which are just a few minutes away by train.

Average room rates at Flexstay Inn start at a mere US$65/night. Available guest rooms are Standard Single, Standard Twin, Superior Twin, Deluxe Twin, Junior Suite, and Suite. All rooms have a private toilet & bath, a kitchenette, an air-conditioning system, a flat screen TV, Wi-Fi Internet, a mini fridge, and other amenities.

Address: 3-26 Shinogawamachi, Shinjuku-ku, Tokyo 162-0814 Japan
Telephone: +81-(0) 3-3343-3111
8. Shinjuku New City Hotel
Shinjuku New City Hotel is a no-frills place to stay, located in the center of the district. It is about 5 minutes away via courtesy shuttle from Shinjuku Station and within walking distance to Tochomae Station of the Toei Oedo Subway line. The hotel is close to two nature parks, The Shinjuku Central Park and Gyoen National Garden. It is also near major shopping centers and electronic markets in the district, as well as Tokyo Opera City, which is an entertainment center with theaters and museums in the area.

Published room rates start at JPY10,900 (US$91) per night for a Standard Single Room and the highest is at JPY19,440 (US$162) for Standard Triple. Other available guest rooms are Superior Single, Semi Double, Studio Twin, Standard Twin, and Superior Twin. Typical room furnishings include a TV, mini ref, tea set, hair dryer, toiletries, and shower and toilet with bidet facilities. There is an on-site restaurant that serves Japanese and Western dishes called the Restaurant Mermaid.

Address: 31-1 Nishi-Shinjuku 4 Chome, Shinjuku-ku, Tokyo 160-0023 Japan
Telephone: +81-(0) 3-3375-6511

9. Citadines Central Shinjuku
Citadines Central Shinjuku is a combination of a hotel and a serviced apartment concept by the Ascott group, which owns and operates several such kinds of properties around the world. Located in Kabuki-cho, the entertainment center of Shinjuku, the hotel is surrounded by huge shopping malls such as Isetan, Roppongi Hills Shopping Mall, and Wing Takanawa. Nearby tourist attractions are Epson Aqua Park Shinagawa, Golden Gai, Zojo-ji Temple, Tokyo Tower, Shiba Park, and Gyoen National Garden.

Average apartment rates start at US$128/night but they have a special discounted rate for long stays. They have a total of 206 apartments with contemporary design interiors that are equipped with modern home entertainment systems and Wi-Fi Internet. The top of the line apartment types are the 1-Bedroom Executive Twin and Studio Premier Suite. Then they have several studio apartments that are categorized into: Double, Deluxe Double, Twin, Deluxe Twin, Executive Double, Executive Twin, Premier Twin, and Club Twin.

Address: 1-2-9 Kabukicho, Shinjuku, Tokyo 160-0021 Japan
Telephone: +81-(0) 3-3200-0220
We hope that this list would prove to be helpful when you decide to have one of the best times in your life in Shinjuku. Please take note that the room prices and promotional offers that appeared here are based on the published rates and prevailing foreign exchange rate at the time of this writing, and may vary from time to time, so it's best to re-check them online way ahead of your trip.

Lead image via http://www.shinjukuhotel.co.jp/
This article was written by: