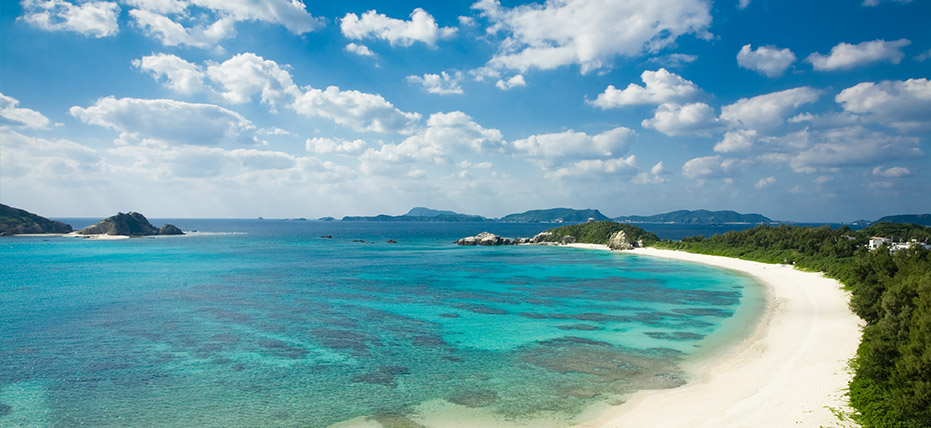 7 Things To Do In Okinawa, Japan's Southern Paradise
While there are many attractions in Okinawa, there are some that you will remember forever. Here are the ones we recommend you check out!
Okinawa may be just one of many Japanese prefectures, but it has its own unique culture some may not be aware of.

Okinawa is located on the southernmost reach of Japan and is composed of 150 different islands.

When you find yourself visiting Okinawa, make sure to do more than just island-hop and swim on the beach—try something truly different. Here are 7 once-in-a-lifetime things to do in Okinawa that will surely spice up your vacation and your life.
1. Drink Habu Sake
Location: You can typically find these in almost any sake shop. It has a snake in the bottle, so it's hard to miss. Price: $100-$300

The Habushu is a wine infused with the Habu snake. And before you ask, yes, it's a real snake. The Habu snake is a relative of the rattlesnake and just as venomous.

A bite from this snake leads to nausea, vomiting, and even death. Don't worry though, the alcohol in this drink neutralizes the venom.

There are typically two ways of preparing the sake. The first is simply to submerge the snake in the alcohol and seal the bottle. This effectively drowns the live snake where it will stay until served—there are some that do serve the snake with the drink.

The second method is to freeze the snake first, then gut it. The snake is placed inside the liquid where it will also drown. This method is said to quell the stench the Habu sake is known to produce.

If you want to try something beyond your run-of-the-mill tequila, this is your drink. Take a sip and you're sure never to forget it.

Another interesting aspect of the drink is that the alcohol used for this sake is awamori liquor. Awomori is an alcohol distilled from indica rice imported from Thailand. The drink is unique to Okinawa.
2. Swim With Whale Sharks
Location: Torii Beach
Price: $95 for one dive

Although their names implies something fearsome, whale sharks are actually peaceful in nature. They filter their food gently from the ocean after all.

Count the spots on their backs from afar or get up and personal with them.

The activity can be restrictive, however, and a lot of preparation is needed. One restriction is age.
Only those 10 years old to 74 years old are allowed to dive and those above 60 must present a doctor's certificate to be able to participate. Those under 20 will also be asked for a signed permission slip from their parents.

People with particular health issues are also prohibited from diving. Those with circulatory and respiratory problems, infections, high blood pressure, diabetes, epilepsy, and pregnant women. Are all not allowed to take part in this activity for good reason.

Despite the stringent conditions, it is an amazing experience to swim with such noble creatures. Not many people can say they've swum with whale sharks!
3. Join The World's Largest Tug-of-War
Location: Naha
Price: Free

The world's largest tug of war is exactly what its name implies and is held annually in Naha City in Okinawa.

The rope itself, not your regular tug-of-war rope by any stretch, is measured at 203 yards with a weight of 40 metric tons. The average number of participants for the event is estimated at 150,000 people.

Imagine the strength of that rope!

The mechanics are simple. Whichever group manages to pull their end 15 meters from the starting point, wins. If neither side reaches 15 meters when time is up, the team that pulled the rope the farthest is declared the winner.

Although it's only a 20-to-30 minute event, but the annual tug-of-war is a great way to immerse yourself in the local culture of Okinawa. The festival itself dates back to the 17th century, there's a history and tradition you'll be a part of, and that's the true beauty of taking part.

2015's event was held on the 11th – 13th of October at Kokusai Street. Keep posted on updates for the 2016 event if you're interested.

4. Surf The Beaches Of Okinawa
Location: Several beaches
Price: 2,500 – 7,500 yen

Okinawa has several islands and consequently many different beaches, prime spots for surfing when the tide is right.

Surfing in the shores of Okinawa is truly a treat. The blue waters are clear and beautiful and many even rival the surf spots of Hawaii.

Naturally, when it comes to safety, there are some things to consider. While the waves are great in Okinawa, the reefs are not so friendly.

Be prepared to get some scrapes and bruises in your surfing adventures if you're not careful. The reefs and rock bed can be sharp to the soles of your feet and wiping out may leave you with some scratches here and there.

The best places to surf are many and varied, but in general, when wintertime is the best time to surf on the west and south sides of the islands, while summer is better on the north and east sides.

Crowds of surfers may gather when typhoons break out and the waves are primed, but even when it's busy, surfing in the clear waters is definitely an exhilarating experience.
5. Make Your Own Soba
Location: Varied
Price: 8,000 yen

The Okinawan people are renowned for their longevity. Some attribute the wellspring of health and wellness to the Okinawan diet.

Local tours can show you to the quaint rural areas of Okinawa where you can have your fill of food while learning old family recipes.

Some even allow tourists to harvest soba ingredients from the farm before cooking and eating—a truly holistic experience

While eating the soba noodles may be your top priority, you'll find that making your own noodles from scratch can be quite fulfilling as well. Top that off with learning the recipe of the noodles itself and you're soba recipes are set for life.

When going on such tours, do bring farm friendly clothes and expect to get a little muddy. Tours like these typically still push through despite the rainy seasons and some aspects of the tour may change.
6. Take Karate Lessons
Location: Various
Price: 300 yen or more per session

Okinawa is the birthplace of Karate. Most people may know this thanks to the film Karate Kid. In fact, the popular character, Mr. Miyagi was actually based on a real Karate master in Okinawa. What better place to learn than the place it all began! Learning Karate from Okinawa is akin to learning surfing in Hawaii, there's a deep culture and respect for the craft.

There are several schools scattered all over Okinawa that are willing to take in some students. Although modern schools for mixed martial arts are perhaps more popular, try the more traditional schools though they may be harder to find.

A starting point is Murasaki Mura located in Yomitan village in the Yakagami district of Okinawa. Yomitan has several different activities and attractions as well as a charming dojo.

Rustic, basic, and close to the roots of real Karate, the experience of learning the martial art in Okinawa cannot be replicated by any other school.
7. Visit Nakijin Castle
Location: Nakijin, Okinawa
Price: 150 yen for entrance to museum, 400 for castle and museum

Nakijin castle is a glorious addition to the UNESCO World Heritage sites. Situated in the Motobu Peninsula of northern Okinawa, it's a breathtaking location.

The area surrounding the castle is remote and has a low population density. The lush forests create a one of a kind environment in which to enjoy the ruins.

Beside the castle is the Nakijin Village History and Culture Museum which allows entry with a modest fee of 150 yen (a little over $1).

Don't stop there, though, as the castle tour is just an additional 350 yen (about $3) and is definitely worth it.

Nakijin castle is approximately 90 kilometers from Naha and can be reached by bus. You can take the highway bus number 111 from Naha to Nago bus terminal. This will take around an hour and a half and will cost about 2,100 yen ($20). From here, transfer to bus number 65 or 66 and get off at Nakijin Joseki Iriguchi. This may take you another hour for an additional 1000 yen. From there, it's a short walk from the station to the castle.

Note: You can also stop to watch cherry blossoms along the way if you're going by car in the spring.
This article was written by: