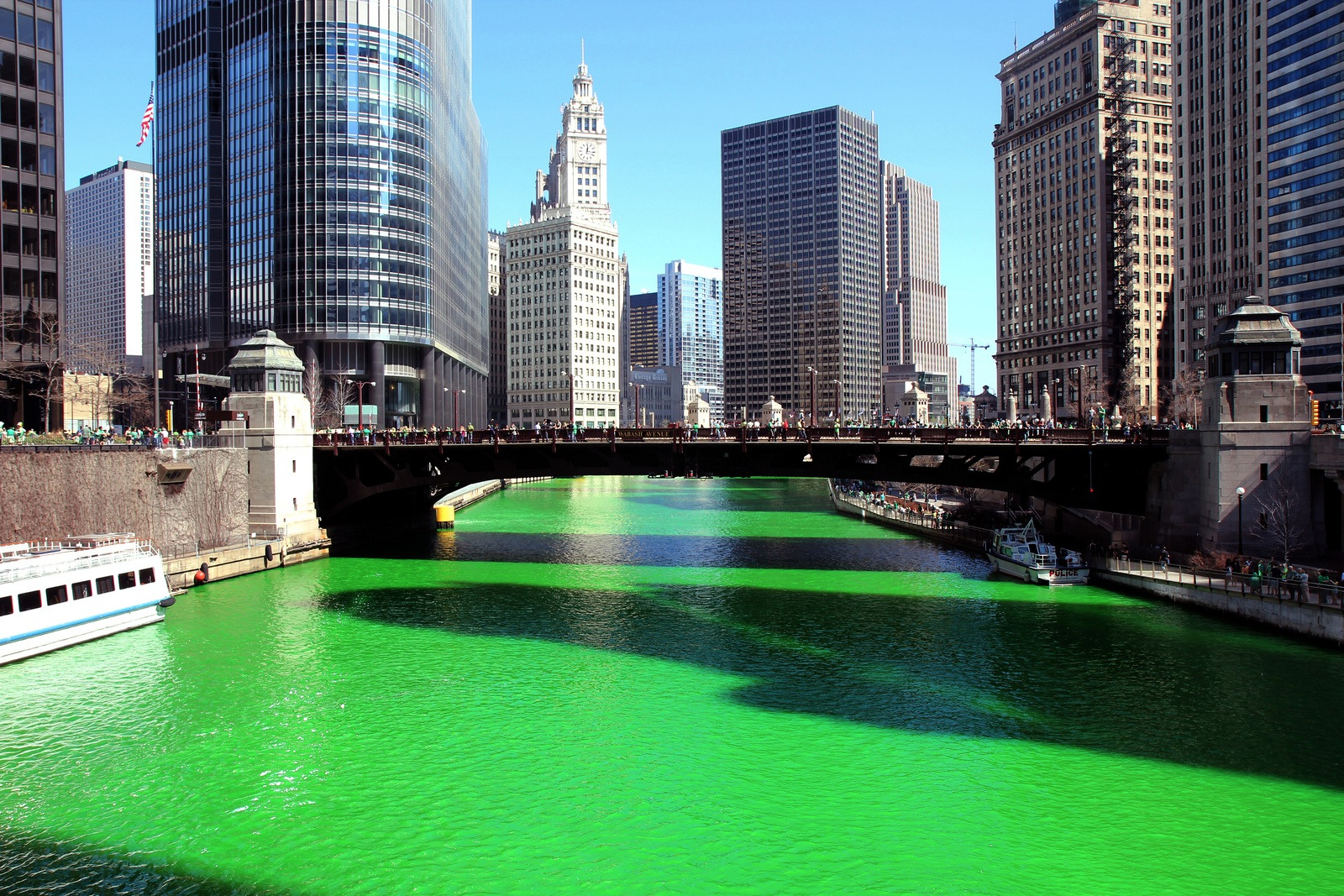 9 Reasons to Choose Chicago for Your St. Patrick's Day Festivities
The Windy City is bursting with opportunities to get your St. Patty's Day fun on. Don't miss them!
With so many links to Ireland, it's no wonder that Chicago makes celebrating Irish culture and tradition a sacred ritual on St. Patrick's Day. The holiday turns the Chicago River green and packs people into Irish pubs all over the city. The city's skyscrapers emit a lovely green glow. Believe it or not, there's even a movement to make Chicago the greenest city in the world on St. Patrick's Day.

From Celtic performances to river dyeing ceremony and the loop parade, Chicago has a lot to offer on this Irish holiday. The holiday is traditionally intended to celebrate the Roman Catholic feast day to commemorate the St. Patrick, the patron saint of Ireland. Today, St. Patrick's Day is a celebration of Irish roots with green drinks, leprechauns, and lots of luck. If you're in Chicago, here are some ways you can get involved in the Irish-loving festivities this year.
1) Help Dye the Chicago River
On March 12th, 2016, the famed dyeing ceremony will begin at 9:00 A.M. with the goal of turning the Chicago River a lovely emerald green. Volunteers gather at the corner of Columbus and Wacker Drive to pour forty-five pounds of nature-friendly vegetable dye into the river. After a few moments, the river turns green and stays that way for about five hours. To keep the tradition unique to Chicago, the secrets of the river dyeing process are safely guarded. That's why no other city has ever been able to replicate this river-dyeing phenomenon.

The best viewing spots for the river include the east side of Michigan Avenue Bridge, the west side of Columbus Drive Bridge, and along the banks of Chicago Riverwalk between Michigan Avenue and Columbus Drive. Another fantastic spot to view the river is the Rebar at Trump International Hotel and Tower, a posh eatery serving gourmet cuisine and offering incredible views of the city.

If you come a little later in the year, you can experience the seasonal Terrance at the Trump, which offers even an more phenomenal view and a lovely dining adventure, complete with a handcrafted menu of delicious indulgences and boutique wines. With an unobstructed view of the Wrigley Clock Tower and the Chicago River, the Trump is an ideal choice for any time of year spent in The Windy City.
2) Watch a Chicago St. Patrick's Day Parade
The Chicago St. Patrick's Day Parade begins downtown at noon on March 12th, 2016. This sixty-year-old tradition is free for all to watch. Beginning at Balbo Drive and ending at Monroe Drive, the parade features the Shannon Rovers Pipe Band, all dressed in kilts and sporting bagpipes as they proudly march down the street, as well as Irish step dancers and bands of Trinity Dancers. The St. Patrick's Day annual Parade Queen Contest is held in the end of January and seeks to crown a girl of Irish descent between the ages of eighteen and twenty-eight; this queen is involved in all things parade-related. With colorful floats and lots of green, the parade happens no matter what the weather does.

Chicago's South Side Irish St. Patrick's Day Parade will be held March 13th, 2016. Since 1979, the parade has revived the South Side tradition by sending bagpipers, Trinity dancers, and fire engines down Western Avenue. Supported by sponsors such as South Side Irish Imports, The Cork and Kerry Pub, and Guinness, the parade begins on 103rd Street and ends on 115th Street. The family-friendly event also revolves around the South Side Irish Queen Contest that crowns the Chicago Rose of Tralee every year.

The Trinity Academy of Dance is heavily involved in the St. Patrick's Day festivities. As well. If you'd like a sporting event to burn a few calories before heading out for a brew and shepherd's pie, you can run the Emerald Isle Mile, a mile-long fun run that starts at 11:00 A.M. on parade day. The option to support the parade monetarily is available on the parade's website.

No St. Patrick's Day Parade is complete without the Trinity Dancers. At the Trinity Academy of Irish Dance, what they teach is about more than just dance. It's about tradition. Inviting the entire Chicago community to partake in a pastime that traces far back to the city's Irish roots, the academy offers a variety of tuition discounts to make enrolling more available. With a commitment to strong leadership not only through teachers, but through seasoned dancers who have shown consistent dedication to the program, Trinity has been encouraging students for more than thirty years to cultivate a strong work ethic through the discipline of Irish dance.

3) Have a Guinness at an Irish Pub
You know what they say about Guinness: "That stuff will tighten the dung in ye." Supposedly that means it's good for you, but does it really matter? A pint of Guinness and a chat with a chum is the perfect way to celebrate St. Patrick's Day. With so many Irish pubs from which to choose throughout the city, making an effort to continue the pint-sipping St. Patrick's Day tradition shouldn't be too difficult. Here are some of our favorite Chicago pubs:
The Atlantic Bar and Grill
Located in Lincoln Square, Atlantic Bar and Grill serves shepherd's pie and boasts twelve beers on tap. At the Atlantic, there's always a soccer game to watch and a friend to make conversation. With a long bar and cafe-style seating, the pub uses its party room to host many watch parties and offers a variety of pub grub options from half-pound burgers to fish sandwiches.
Chief O'Neill's Pub and Restaurant
Opened in Avondale in 1999, Chief O'Neill's Pub presents live Irish music on Sundays featuring bagpipes; dedicated to Police Chief Francis O'Neill, who is said to have revived traditional Irish music by collecting over two thousand tunes from his homeland and compiling them into a book entitled O'Neill's Music of Ireland. Since his death in 1936, Chief O'Neill has been inspiring generations of Irish descendants to embrace their musical heritage. O'Neill's Pub continues the tradition through musical events all year long. The pub holds a routine Friday Fish Fry, opens into a patio in the back, and keeps guests cozy with three fireplaces inside.
The Cork and Kerry
The Cork and Kerry is a Bridgeport bar that promises friendly company and an authentic Irish experience. Praised as Chicago's Best Beer Garden, the venue offers Irish egg rolls and Irish fries along with a selection of brews including Guinness and Crispin Cider. The Cork and Kerry, a three-story pub with a wooden deck, has been heralded "One of the Best 21 Irish Pubs in America" by Thrillist.com.
Emmit's Irish Pub
Downtown, one quirky Irish pub that will not disappoint is Emmit's. With Jameson bottles hanging top-down above the bar, it's clear that they take their Irish whiskey drinking seriously. With a revolving door; that faces the corner, the pub is a veritable drinking hole with tiled ceilings and raised booths and tall tables surrounded by bar stools. Some of the pub's most popular menu items include Emmit's Shepard's Pie and the Pumpkin Spice specialty cocktail.
The Galway Arms
The Galway Arms is a lovely little North Side pub with bright lighting and wooden floors. Walls are a mixture of exposed brick and wood as the venue opens into a cozy bar with plenty of craft beers and quality liquors. The pub provides a meandering seating area for dining along with a quaint brick fireplace. The pub features a long hallway exit right onto the street. Calling itself the "Soul of Ireland, Heart of Chicago" the Galway serves up Guinness Beef Stew and Celtic Bread and Butter Pudding. Providing a covered and heated outdoor patio, the Galways Arms also hosts Sunday night Irish music and disperses Gaelic cheer with each pint of Guinness, making it an ideal spot for an Irish-style dinner date.

Harrigan's Irish Pub Chicago
Harrigan's Pub delivers tasty pints and classic pub food including wings and burgers. Equipped with a jukebox and a bar made of Irish pennies, Harrigan's has been open since 1974. Featuring a countdown to St. Patrick's Day, the pub gets busy on weekends and hosts a karaoke night on Thursday, Friday, and Saturday nights. The cheery red ceiling, long bar with tall red chairs, exposed brick, and weathered floor turn Harrigan's into more than just another drinking hole – rather, the venue is a rugged pub seasoned with Irish flavoring in every detail.
The Irish Oak
The Irish Oak is an excellent old-fashioned Irish pub with a rustic, well-designed interior complete with wooden accents. Menu choices include southern fried pickle stackers, pulled pork sandwiches, and Guinness stew. Praised for its welcoming, laid-back atmosphere and really good drink specials, the Zagat-Rated venue hosts live music every night from Thursday through Saturday.
The Abbey Pub and Grill
The Abbey is a great pub for local music and sports telecasts. With ornate ceilings of a dark green hue, the pub is flanked with interesting art on exposed brick walls and includes a long, winding bar. The unique tabletops add yet another attractive detail. The Abbey's stage is known for hosting Irish bands and Irish school dance team performances. Offering delightful fish and chips, this family-owned bar is an ideal pub for music lovers.
Barney Gallaghan's
Formerly known as Keegan's Pub, Barney Gallaghan's is up and running again after a six-month-long renovation project. Heralded as the best pub in Beverly, Barney Gallaghan's is a charming Southside spot that offers live music and entertainment in its welcoming interior. With a fireplace and oak everywhere you look, the pub even contains a handmade wooden bar made by the venue's owner.
4) Go to the St. Patrick's Festival
The Irish American Heritage Center hosts a St. Patrick's Festival every year featuring live music, traditional Irish dance performances, and authentic food. Located on Knox Avenue, the center welcomes visitors to enjoy its annual festival, which is complete with kids' activities, Trinity Dancers, and an arts and crafts fair with Irish creations for sale.

The 2016 festival will be held on March 12th, 2016 from 1:00 P.M. to midnight. If you were looking for another excuse to celebrate St. Patrick's Day this year, the Irish American Heritage Center also hosts the annual St. Patrick's Day Celebration. Scheduled for March 17th, 2016, and running from noon to 10:00 P.M., the celebration delivers even more reasons to be proudly Irish.
5) Run in Green
If sitting around drinking beer all day doesn't sound like your version of a St. Patrick's Day celebration, maybe you'd like to work up a sweat before heading out to the party. There are two particular Chicago fun runs that take place in honor of the holiday. Get registered and be prepared to sport green dry fit with a passel of other runners!
The St. Paddy's Day 5k and 8k Run
The St. Paddy's Day 5k and 8k Run uses its earnings to benefit the Greater Chicago Food Depository. Winding through Lincoln park, the race features a costume contest. Be sure to wear green!
The Get Lucky Half Marathon, 14k and 7k
Whether you want to go far or even farther, the Get Lucky Half Marathon, 14k and 7k gives you several options. Participants wear the complimentary hoodie they received upon registration as they create a wave of green running down the street.
The Shamrock 5k Beer Run
Scheduled for March 19th, 2016, the Shamrock 5k Beer Run gives participants three ounces of beer for every kilometer and a pint at the finish. A classic beer run complete with leprechauns and tons of green costumes, the fun run rewards participants with souvenir beer glasses, a signature t-shirt, and an event medal. You're even given a customized nickname on your racing bib! The Shamrock Beer Run also supports numerous charities such as the Animal House Shelter, Timmy Global Health, and the Little Red Door Cancer Agency. Sponsored by such businesses as Stone Brewing Co., Three Pints Brewing, and Scarlet Lane Brewing Co., the fun run hosts a second run in Indianapolis just a few days earlier.
6) Take a St. Patrick's Day Cruise on the Green River
For an up-front view of the emerald river, Wendella Boats is one of the companies that provides a Chicago River cruise on St. Patrick's Day. The two-hour cruise, which departs immediately after the dyeing ceremony, is complete with a bar and gleeful Irish music. Since 1935, Wendella has been providing tours so that millions of people can see the Chicago River and Lake Michigan in a gorgeously unique way. The St. Patrick's Day cruise is just one of the many boat tours that lends an unforgettable Chicago experience.
7) Visit Sauced Night Market
Sauced Night Market takes place at Logan Square's Emporium Arcade Bar, a venue offering arcade games in a nightclub setting with twenty-four rotating taps of American craft beers. Sauced Night Market is just one of the many events that is hosted at the Emporium. Food vendors offer such delights as tacos, Cajun food, cookies, and mini tarts.

With free admission and plenty of opportunities for shopping, sipping of brews, and partaking of food options, the market is a Chicago gem that is right on the pulse of the city's most delightful offerings. The market hosts events on a weekly basis at the Emporium. In the way of St. Patrick's Day festivities, Sauced puts on an event called "Kiss Me, I'm Sauced Night Market."

The event celebrates Chicago's Irish heritage by serving steamed dumplings and royal pies as well as craft beers and green cocktails. Featuring food options from such establishments as Pleasant House Bakery, Smashed Muffin, and Maddy's Dumpling House, the event will deliver a DJ and plenty of merrymaking.

Revolution Brewing is a Zagat-Rated brewpub that serves up craft brews with quirky titles such as Bottom Up Wit and A Little Crazy, to name a couple. The brewery will be represented at Sauced's St. Patrick's Day event, along with Chicago Distilling Company and their DiPrizio family of third generation distillers, as well as Marz Community Brewing, a Bridgeport brewery that is known for delivering their brews responsibly. Each of these local brewing companies will be serving up a passel of libations for all to enjoy. With all these indulgences, it's no wonder the event is open only to those over twenty-one years of age.


8) Go to the Chicago Irish Film Festival
Held from March 3rd to 6th, The Chicago Irish Film Festival seeks to support Irish filmmakers by presenting their works to the Chicago community. Through marketing and networking, the all-volunteer festival gains publicity for Irish filmmaking. Since 1999, The Chicago Irish Film Festival has screened over 500 films at its annual event to celebrate Irish culture. Films are screened at the Music Box as well as the Gallery Theatre, two of Chicago's premiere independent and foreign film venues. The Music Box has screened over 1,200 films since 2009 and is partnered with the National Theatre of London in order to share British theatre with the Chicago community.
9) Go on a Food Crawl
A food crawl is an event in which people make multiple stops to sample the food at the best restaurants, making a full meal out of the samplings from different places. The Chicago Irish Crawl features food tasting and drink specials at Wicker Park to celebrate the city's Irish heritage. Wicker Park is a neighborhood in the West Town area of the city known for its culture, art, and food venues. Its historic district has been included in the National Register of Historic Places.

Presenting holiday food and fun with family and friends, the crawl's ticket price of $27 comes with a $5 coupon card to be used during the food and beverage crawl throughout the Wicker Park Neighborhood. Participating guests collect gold coin stickers for every special purchased and are then entered into a raffle for prizes. Delivering some of the city's most distinctive offerings of food and drink, the Chicago Irish Crawl will be held March 12th from 11:00 A.M. to 6:00 P.M.



No matter what your usual St. Patrick's Day celebration entails, The Windy City offers captivating activities to enjoy being green. With food, drink, a sampling of Chicago's many delicacies, the city encourages taking on many new forms of adventure as you enjoy the city skyline and drink in some of its rich culture and heritage.

From parades to pubs to parties, hundreds of years of tradition are represented during this March holiday. Pairing treasured history with distinctive innovation, every event in this list promises yet another splendid means of commemorating Gaelic ways of old and of new. Whether you're Irish or not, if you spend the holiday in Chicago, you will surely find ways to appreciate the St. Patrick's Day holiday and all the sense of community it represents.
This article was written by: