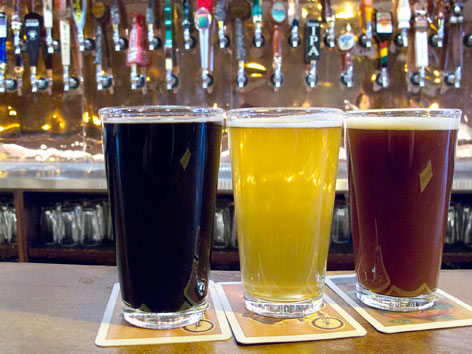 Grab a Pint at These 5 Great Austin Pubs
As the capital of cool and creativity flowing at every corner, Austin has no shortage of options for the beer fanatic. Cut through the clutter of options and head straight to one of these 5 pubs.
Austin is well known to be the live music capital of the world, but it is also garnering a reputation as a renowned food and beverage destination as well. With more bars and pubs opening every year, cut through the fuss and hype and head straight to one of these five pubs to enjoy a great pint, or two or three!
1. Ginger Man
One of downtown Austin's finest pubs, Ginger Man offers cozy interiors, or you can escape to their outdoor terrace through the back, right in the heart of the Warehouse District. Offering over 50 different tap selections and a rotating cask selection, plus dozens of bottles, the Ginger Man will make you feel at home. Enjoy a nice summer day outside on one of the picnic tables or relax with a quintessential bar game of darts. The knowledgeable staff will help guide you to selecting your perfect pint or swing by at one of their monthly beer tastings or educational events.

Find them at 301 Lavaca Street or online at http://thegingerman.com/austin
Open Monday through Thursday from 2:00 PM to 2:00 AM or Friday through Sunday from 1:00 PM to 2:00 AM.

The outside patio at the Ginger Man.
2. The Drafthouse
This is the place to head to if you want a truly English-style pub with dark wood everything: chairs, tables, walls, etc. While the atmosphere is great, so is the selection, with more than 75 beers to choose from. With both tap and bottle selections, you can indulge your inner beer guru. The current selections are posted on several large flat screen TVs that highlight the up-to-date offering. With two dartboards and a very large outdoor patio space, patrons can relax, knowing the Drafthouse has a cold selection to suit everyone's tastes. Offering a weekly pint night where, if you buy the beer, you get to keep a commemorative glass, this place offers many other weekly specials to lure you in.

Find The Drafthouse at 4112 Medical Parkway in Austin or online at http://www.draughthouse.com
Open Monday to Thursday from 3:00 PM to 2:00 AM or Friday to Sunday from 1:00 PM to 2:00 AM.

Source: http://www.yelp.com/biz_photos/draught-house-pub-and-brewery-austin?select=VAxxDTYktnUFKDjEF5L2jA
The dark but comfortable interior of the Drafthouse with tons of selection and an outdoor patio to enjoy as well.
3. Craft Pride
Craft Pride is a perfectly-positioned bar among the walkable district of Rainey Street, where you can find a dozen other restaurants and bars to continue your night after enjoying a pint or two (or more). It features many local craft breweries from Austin, Texas, and the US. This is a great place for beer connoisseurs as their tap wall is categorized by beer type, allowing patrons to choose from among their 54 taps. Offering both indoor and outdoor space, it is a great place to enjoy year round. Craft Pride is located at 61 Rainey Street in downtown Austin or online at http://craftprideaustin.com/about

Open Monday to Friday from 4:00 PM to 2:00 AM, Saturday from 1:00 PM to 2:00 AM, and Sunday from 1:00 PM to 1:00 AM.

Inside at Craft Pride where the tap selection is categorized by beer type.
4. Banger's Sausage House & Beer Garden
Also located in the Rainey Street District, Bangers is a restaurant and beer garden. Offering over 100 beers on tap and a hefty selection from the bottle, Bangers is a relaxing indoor and outdoor space to try. Enjoy one of their house-made sausages under a canopy of strung lights and worn-in wooden picnic tables. Not only can you enjoy food and Texas's third largest tap wall, they offer live music two to three times per week in their outdoor space. The friendly staff can help guide you when the multitude of choice is too much or try one of their beer flights to taste a sample of several tasty and popular options.

Find Bangers at 79 & 81 Rainey Street in downtown Austin or online at http://www.bangersaustin.com/#home. Open Monday to Wednesday 11:00 AM to 11 PM, Thursday to Saturday 11:00 AM to 12:00 AM, and Sunday from 10:00 AM to 11:00 PM.

The outdoor patio area where guests can enjoy a pint from one of over 100 taps.
5. Whip In
This growing Austin secret sits just aside the Interstate side road in the popular Travis Heights district. Originally a gas station and convenience store, the Whip In now serves a unique multipurpose role as beer market, pub, Indian restaurant, and live music venue. Grab a pint from any number of the rotating taps or select from hundreds of bottles before sitting down to enjoy live music and a great dish.

Find this gem on the Austin beer scene at 1950 IH35 in Austin or online at http://whipin.com. Open everyday to meet your taste buds needs from 10:00 AM to Midnight.

Source: http://www.scrumptiouschef.com/2015/08/20/this-week-in-craft-beer-news-ogershok-out-at-real-ale-abita-bought-french-craft-beer-matthew-lincecum-broken-wheel-brewery/
The Whip In as seen from the street offers patrons a restaurant, pub, and bottle shop all in one.
With no shortage of selection, these pubs in the heart of Austin are sure to offer a location, interior, or event to suit everyone. Either enjoying the sunshine or staying cool indoors with a friendly game of darts, these pubs offer more than just a good drink but an enviable atmosphere to help make your trip to Austin truly memorable.
This article was written by: