The 7 Coolest Homes Listed on San Francisco Airbnb
Experience every unique and contemporary aspect of San Francisco through the coolest homes that you can find on Airbnb.com.
San Francisco is a city filled with rolling hills, majestic fog, great history, and a cool and unique culture. Nothing matches a cool and hip city like cool and hip accommodation. Airbnb is becoming the first option for young travelers looking for affordable and home-like, awesome accommodation. The online service offers accommodation options from room shares, private rooms, or even entire homes to travelers looking to stay in places other than a traditional hotel. Whether your budget is high or low, Airbnb has something in store for everyone. Here are the 7 coolest homes listed for San Francisco.

1. Nob Hill Spacious En-suite in Top Floor Condominium
This spacious en-suite that is offered by user Lindy, is located in a 3 bedroom condominium in the beautiful and convenient neighborhood of Nob Hill. Enjoy beautiful views of the San Francisco downtown skyline and both the Nob and Russian Hills from the top floor inside of this extravagant home. From the panoramic living room windows, take in views of the Pyramid, Bay Bridge, and Treasure Island. This condominium is very conveniently located in a very walkable and tourist friendly area with numerous activities to partake in.

You will be sharing the condominium with Airbnb user Lindy and her adorable feline, who makes their guests feel welcomed and appreciated. Not only does the listed room come with a private bathroom, but it comes with a free parking space, internet, tv, and all other living essentials that you may require during your visit.

Lindy asks that guests remove their shoes prior to entering her beautiful and clean home. Also there is no smoking permitted in the building. Lindy prefers her guests to treat her home as if it were their very own and to be considerate of her and the neighbors.

Airbnb Listing: www.airbnb.com.au/rooms/7989636

2. Contemporary Studio in the Marina
Source: http://www.dreameronearth.com
Located in the most desired neighborhood in the Bay Area, is a small yet vibrantly contemporary studio just one block from Chestnut Street and Fillmore Street. This studio has a shared backyard, separate entrance, and is ideal for 1 or 2 people. San Francisco's most prominent shopping boutiques and dining quarters are in walking distance of this cosmopolitan studio. Experience the breathtaking views of the Marina neighborhood just outside your door and take a stroll in one of the most walkable neighborhoods in San Francisco.

You will have the studio apartment to yourself but don't worry because Airbnb host Shaveta and her partner will be just a phone call away if you need them. They love interacting with guests from all over the world and love to provide assistance and recommendations as needed, but know how to respect your privacy.

Check in time is 3pm and check out time is 11am. However, if given advanced notice, Shaveta will accommodate the schedules of her guests as accordingly. The studio is non smoking and equipped with a full kitchen, internet, furniture and many other necessities. Consider Shaveta's contemporary studio located in the Marina neighborhood for an unforgettable and hospitable Airbnb experience.

Airbnb Listing: https://www.airbnb.com.au/rooms/5193765

3. Bedroom in Russian Hill's Panoramic Penthouse
Source: http://crazy-frankenstein.com
This listing is to have your very own room and shared bathroom in one of San Francisco's centrally located neighborhoods. This spacious, open penthouse is located in another desirable San Francisco area that is not far from the city's main attractions: Russian Hill. Witness outstanding views of Bay Bridge, Alcatraz, and Coit Tower from the vast windows of this top floor sanctuary.

The home is equipped with a fireplace, cable tv, internet, and everyday essentials. Your stay even includes breakfast! This penthouse is 3 bedrooms so you will be sharing with Airbnb host Sid and possible another Airbnb guest. Sid is happy to welcome guests to stay with him at his beautiful home and is even happy to pick you up from the San Francisco or Oakland airports if he is free upon your arrival. The only thing that Sid asks of his guests are that you do not smoke, do not bring pets, and be quiet and courteous when entering and exiting the building, as his neighbors do not like a lot of noise. For a perfect Airbnb experience in a cool home and neighborhood, stay with Sid and leave happy.

Airbnb Listing: https://www.airbnb.com.au/rooms/1857709

4. Two Bedroom Upper Level in the Mission
Source: http://www.findroomz.com
Mural in The Mission District
Have this entire classic, yet beautifully restored 2 bedroom apartment to yourself in the hippest neighborhood in San Francisco. This apartment has a beautiful spacious deck where you can enjoy the sunset while having dinner or a bottle of wine. The space is filled with modern and mid-century furniture that is both roomy and comfortable. The Neighborhood of Potrero Hill is just a short walk away where you can enjoy stunning views and quiet dining. There is also easy access to freeways and public transport so that you can go anywhere your heart desires.

The home is family friendly, however pets are not allowed. All of the essentials are supplied including a washer and dryer. Although you will have the entire apartment to yourself, your Airbnb host Avram works hard to keep the apartment clean and can be reached if you need anything.

Avram's house rules are the following: no house parties or additional guests other than the guests originally specified upon arrival and smoking is not allowed on the property. Avram also asks that guests keep their noise levels down and to keep the home in the same condition as when you arrived. Although you will have the entire home to yourself, Avram is a wonderful host and is easily contactable if you need assistance.

Airbnb Listing: https://www.airbnb.com.au/rooms/7933407

5. Iconic North Beach Hideout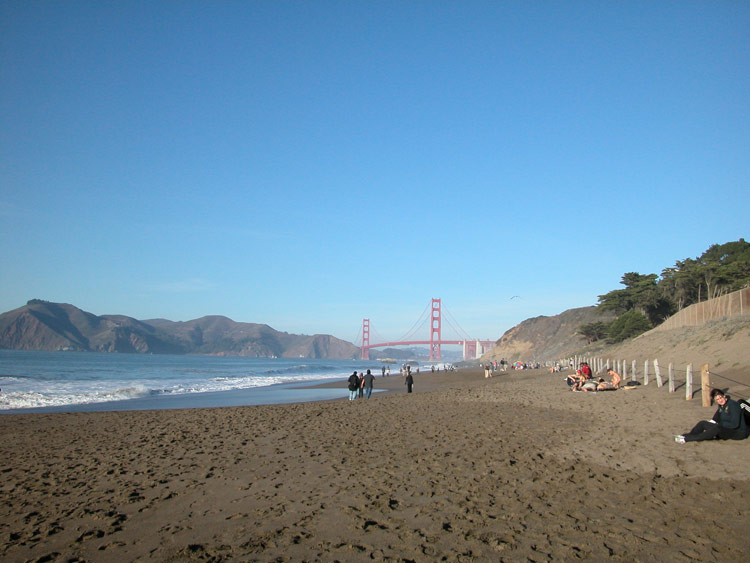 Source: http://www.sanfranciscodays.com
This listing is for a wonderfully decorated historic San Francisco home that is ideal for 2 guests. Located in the North Beach District of San Francisco is this one bedroom cozy space on Telegraph Hill. With Chinatown, Little Italy, and Embarcadero nearby, staying at this home will give you easy access to the most diverse and tourist friendly options in San Francisco. Telegraph Hill is ideal for walking and taxiing around San Francisco. Enjoy the beach and everything else that this city has to offer with the easy accessibility of everything from this awesomely comfortable home.

This home is ideal for someone with no children coming along, as there are a few strip clubs on the block. Also there is not much street parking so do not bring your car to this home if staying here. The home is beautifully decorated and has all of the at home essentials that you may need on your vacation.

Your Airbnb host Jason, is a host who understands and allows his guests to have fun. He just asks that guest refrain from the use of illicit or illegal substances and activities inside of his home. He wants guests to be respectful of his home, his belongings, and his neighborhood at all times. Upon following Jason's rules, your stay at Jason's North Beach Hideout will be one that you will always cherish.

Airbnb Listing: https://www.airbnb.com.au/rooms/1717096

6. Bunkbed at Sunny Side Travel House
Source: http://wikipedia.com
Western Addition Neighborhood
For those who do not need an entire home or even an entire room, Sunny Side Travel House has bunkbeds that are available at a low cost. This home is spacious house that is perfect for the solo traveler to come to make friends and share meals.

All essentials are provided and there is space to use your laptop. Check-in is available around the clock and the staff at the Sunny Side keep a well stocked fridge filled with snacks and drinks. The home itself is very nice and kept very tidy by the Sunny Side Travel House Staff.

The house is located in the Western Addition/NOPA area of San Francisco. This area is known for its historic architecture, jazz music, and great diversity. Anyone will fit right in comfortably at the Sunny Side Travel House as well as the neighborhood. Stay here for an authentic San Francisco traveler's experience

Airbnb Listing: https://www.airbnb.com.au/rooms/9074064
7. Private Castle in Pacific Heights
Source: http://bornrich.com
Probably by far the coolest home of them all is the private castle, located in Pacific Heights. This quintessential castle was built in 1921 and has unique characteristics that resemble a medieval castle, yet packed with all of the modern amenities that you would ever need. The home is decorated with touches of medieval, yet has a contemporary design. This castle has a grand and beautiful stone pathway that leads you through a luscious green garden and private fountain as you head to the entrance. There is a lovely, wooden, winding staircase that takes you up into the castle's tower, where the bedrooms are.

The neighborhood of Pacific Heights is a suburban sanctuary close to the heart of San Francisco. This home is a short walk to the main and popular street, Union Street; where you can find restaurants, bars, and other activities to partake in.

Airbnb host Aaron, happily welcomes guests to reside in his castle. He only asks that there is not too much noise and that there are no parties within the spacious and beautiful, historic home.

For the most unique housing experience that you could ever have in San Francisco, choose Aaron's pacific castle as your choice of accommodation.

Airbnb Listing: https://www.airbnb.com.au/rooms/6705601


San Francisco is a beautiful, vibrant, yet quirky city; filled with great and accommodating people. Experience the essence of why San Francisco is one-of-a-kind during your stay in an Airbnb home.



Thumbnail courtesy of http://www.gregglynn.com
This article was written by: