Chicago Tourism Advice You Can Use: Know Before You Go
Chicago is a diverse destination with optimal things to do. Chicago can be an inviting and exciting host city for tourism with the following tourism advice.
Being the third most populous city in the United States, The Windy City is a top destination for tourists and travelers looking for a great time in a huge metropolis. Chicago is a diverse and vast destination with optimal things to do. It can be an inviting and exciting host city for tourism, especially if you heed the following advice.

Change with the Seasons
Chicago is located in the Midwest, meaning that it experiences all four seasons. Your experiences and activities that you partake in while staying in Chicago will allow your vacation to vary. Chicago experiences hot and humid summers, wet springs, mild autumns, with snowy and freezing cold winters. If you are looking to experience Chicago's Lake Michigan beaches and the activities that occur there, summer is probably the best time to visit. If you are visiting Chicago with seeing an NBA game in mind, autumn or winter is the time that you would want to visit. If you dream of sledding in sheets of white snow, visit during the winter months. Remember to take into consideration the time of the year that you are visiting when planning your trip.

Consider the City's Public Transportation
Chicago has a very navigable downtown and is home to the country's 2nd largest public transportation network. Save money on transportation by opting to use one of Chicago's many methods of public transportation. Locals often travel using the "L", Chicago's rail system. They also use the bus.

There are train stations and bus stops all throughout Chicago, including both airports (O'Hare and Midway), downtown, and all of the tourist attractions that visitors crave when visiting Chicago. Both the "L" and the public buses are not very expensive in price, costing only $2 for the bus and $2.25 for the "L". You can even purchase an all day fun pass, 3 day fun pass, or 7 day fun pass, which will all you unlimited rides for the allotted amount of time.

Walking Is An Option During The Warmer Months
Chicago has spacious footpaths and scenic sidewalks in its downtown vicinity. Downtown is also not very large in size, meaning that the main tourist attractions are only a short walking distance from one another. Save money, slowly take in the Chicago feeling, and get great exercise and fresh air by choosing to walk to some of the main attractions.

Hot Dogs are One of a Kind in Chicago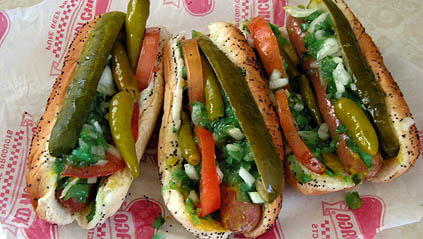 Source: http://insidetailgating.com
Throughout the city you will see vendors and hot dog restaurants that can whip you up a Chicago-style hot dog, also known as a Chicago Red Hot. A Chicago-style hot dog is an all beef hot dog (typically made with Vienna Beef) topped with white diced onions, sweet pickle relish, a dill pickle, sliced tomato, pickled sport peppers, a dash of celery salt, and yellow mustard, all on a poppy seed hot dog bun. Chicagoans are extremely against the use of ketchup on hot dogs. When visiting Chicago, you must try one of these treats that are unique to Chicago. But do not expect to be able to get ketchup as a condiment. Hot dog vendors in Chicago don't even carry ketchup. If you do happen to get your hands on some ketchup, be sure not to be seen by a Chicago local with ketchup on your hot dog!

Smart Advice For Visiting The Willis Tower
Being the tallest building in the United States, The Willis Tower can be quite the experience. On the 103rd floor of the Willis Tower is the Skydeck, which offers a 360 degree view of the surrounding area. On a clear day you can see up to 4 states from the Skydeck's windows. On any day you can have a great view of the city, including the bustling streets directly under the glass, see-through floors on the edge of the Skydeck. Tickets are a bit pricey so to ensure that you get your money's worth, and be sure to visit on a clear day. It is a good idea to ask the ticket vendors what the view is like today. Also be prepared to wait in line for a while before reaching the sky deck. But don't worry, The Willis Tower is decked with Chicago memorabilia and fun facts to keep you entertained while you are waiting in line. There is even an option to purchase a fast pass, which allows you to skip a majority of the people waiting in line. This option costs more than double the normal ticket but can be useful if you are short on time. Also, be prepared to pass through touristy gift shops on your way out of the Willis Tower. So bring some extra cash to the tower if you plan on buying gifts.

The Art Institute of Chicago is Well Worth a Visit
The Art Institute of Chicago is located in Grant Park, near Millennium Park and Lake Michigan. It houses many of the world's most famous works, including art by Picasso, Van Gogh, and Monet. There is exceptionally impressive art from every continent of the world. You can easily spend an entire day here admiring the extremely large collections on display. The Art Institute now offers mobile phone apps so that visitors can easily navigate the museum grounds. It is good to do a bit of research on the artists and exhibits that are on display so that you can have a better understanding of the art when you are viewing it.

The Inside on the Magnificent Mile
The Magnificent Mile is a mile-long stretch located in downtown Chicago on Michigan Avenue. It is one of the main tourist destinations because it is filled with department stores, boutiques, cafes, and restaurants. The Magnificent Mile is popular year-round, particularly during the Christmas holiday season when the stretch is lit with beautiful Christmas lights that reflect on the white snow. Although the area is a hit among most tourists, for some people the section of Chicago is not so "magnificent". Unless you are a shopaholic who is looking to splurge large amounts of money on high end brands and don't mind paying top dollar for food and souvenirs, the Magnificent Mile may not be for you. Like any large city, there has been some reported cases of petty thefts, so keep your valuables close at all times.

The Dish on Deep Dish Pizza
Source: http://wikipedia.com
Pizzeria Uno's Deep Dish Pizza
Chicago-style pizza consists of numerous unique styles of pizza, with the most famous style being the deep dish style pizza. The deep dish pizza is cooked in a pan with high edges, allowing the pizza to finish with a high edge and deep surface. This style allows loads of chunky tomato sauce and cheese to be piled into the center of the pizza for a delicious and filling treat. To experience some of the best Chicago-style deep dish pizza, head over to Pizzeria Uno which is believed to have been the creator of the deep dish pizza. This restaurant is a family owned pizza chain and has established a great reputation throughout Chicago.

Save Money When Visiting Navy Pier
Navy Pier, a 3,300 long pier located on Lake Michigan, is Chicago's top tourist attraction. You can have the time of your life here while saving some cash in the process. The first step is getting there. Parking in the Navy Pier is over $20 so consider public transportation if there is a small group that you are travelling with. With the low costs of the buses and the "L", you can start your visit off on a good note by saving a bit of money before even entering the pier. Also, it is a great idea to pack your own lunch or eat at a restaurant outside of the pier because of overpriced food items, which all happens be fast food and junk food anyways. Consider going to Navy Pier's website before your visit and purchasing some of the coupon books that are up for offer to get discounts on the rides and other attractions that available. Also refer to the website to keep yourself up to date with the newest pier events and attractions.

Driving Tips for Chicago
If you are planning to drive in Chicago, please note that Chicago's traffic is very heavy and can be very aggressive at times. Expect to be aggressively honked at by other drivers when you are parallel parking. Also expect congested roads and lots of lane changing. It is best to avoid driving altogether during rush hour and take advantage of public transportation, particularly the "L". Also, avoid high peak time traffic days such as long weekends, including Thanksgiving weekend and Memorial Day weekend, where lots of drivers are heading in and out of the city.

Where to Stay in Chicago
For access to all that Chicago has to offer around the clock, it is best to stay closer to where all of the action is, near the city's center. If you want the Magnificent Mile, Willis Tower, and other touristy attractions right in arms reach, stay in The Loop. If you're looking for diversity in the choices of cuisine and people from all over the world, choose Westside. For a residential, hip, and laid back experience, stay in Uptown. There are great places to stay in Chicago at reasonable prices, however be expected to spend a little more as you get closer to the main attractions and Lake Michigan.

You are now ready for your Chicago adventure. Take into consideration these tips when planning your trip to ensure that you have a great time in the Windy City.







Thumbnail credit to http://adventurecaravans.com
This article was written by: