4 Delectable Vegan Restaurants in San Antonio
Here are four of the best vegan restaurants in San Antonio. Eat at these places for a cruelty-free and guilt-free delectable culinary experience!
With the truth behind the meat and dairy manufacturing industry being unveiled with documentaries such as Earthlings and Cowspiracy, many consumers are choosing to meet their dietary needs without the harm and torture of innocent animals being on their conscience. Many restaurants in the San Antonio area are following suit and catering to those who have made the switch from living a carnivorous lifestyle to a healthy and cruelty-free vegan lifestyle. Here are the four best and most delectable vegan eateries that I could find in the San Antonio area.

1. Vegeria
This restaurant was ranked #1 by Buzzfeed for vegan restaurants and rated among the top 10 for best vegan restaurants in the USA by USA Today. The success of Vegeria in San Antonio has allowed it to successfully maintain two restaurant locations. Vegeria was started by vegan chef Fred Garza, who took inspiration from his grandmother's traditional tex-mex recipes that he grew up on. Chef Garza decided to open Vegeria after being asked to leave his culinary school because he was a vegan. Chef Garza then composed his restaurant's menu of dishes where he preserved his grandmother's authentic recipes but put a vegan spin on them. The menu is 100% vegan and consists of guacamole, nopales (cactus) tacos, nachos, tamales, enchiladas, and more! All cruelty-free and created with plant-based ingredients. Vegeria even offers catering and delivery options. For a high-quality, reputable vegan eating experience, be sure to visit one of the Vegeria locations.

Website: myvegeria.com
Location 1: 8407 Broadway St, Suite 1, San Antonio, TX Phone: 210-826-4223
Location 2: 1422 Nogalitos St, San Antonio TX Phone: 210-465-9233
2. Señor Veggie
Señor Veggie's 100% vegan menu aims to please dedicated vegans and also convince omnivores to make the switch to a vegan lifestyle. Founder and chef José Alfredo wants to show omnivores that they do not have to give up any of their favorite foods, just alter them. Chef Alfredo's standards for vegan dishes are sky-high and it shows in his restaurant's menu. The menu at Señor Veggie consists of hummus, corn fritters, poblano fajitas, vegan burgers, sandwiches, and other american and tex-mex treats that have been altered to suit vegans. Everything on the menu is handcrafted, fresh, and very healthy so that diners can enjoy their favorite dishes both guilt and cruelty-free.
Website: senorveggie.us
Location: 620 South Presa, San Antonio Phone: 210-228-0073
Email: info@senorveggie.us
3. La Botánica
La Botánica is a bar that offers creative food and drinks that are completely vegan. Like other bars in San Antonio, La Botánica offers outdoor seating, live music, and great vibes. However, what sets this bar and restaurant apart is it's 100% vegan and has unique food and drinks menus. The menus are always small and simple but fresh and cruelty-free. You can find black bean empanadas, red beans and rice balls, mushroom ceviche, and mollete on the bites menu. As for the drinks menu at La Botánica, you can expect to find drinks such as pepino blanco and mezcalaritas. Founder and chef Rebel Mariposa and her partner chef and bar master composed the menus of this bar and restaurant aiming to give patrons a great night out experience filled with delicious and nutritious food and drinks, without harming the planet or any of its inhabitants. La Botánica even gives back to the community by offering gardening and cooking classes as well as being a sponsor to numerous charities in the community. Eating and/or dining at this amazing establishment is not only doing good for your body, but for the earth and the local San Antonio community as well.
Website: vivalabotanica.com
Location: 2199 St. Mary's Strip, San Antonio Phone: 210-886-2594
Email: labotanicas@gmail.com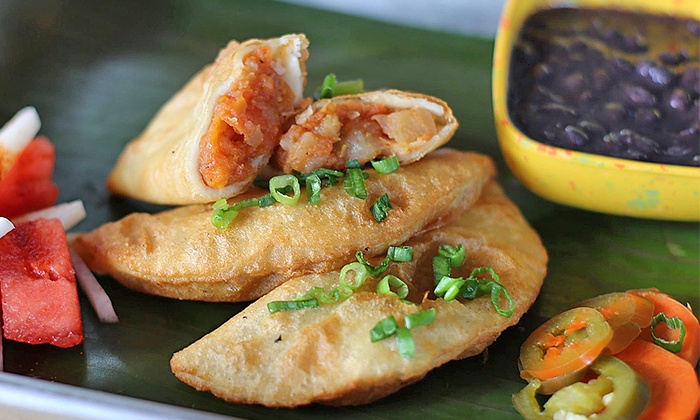 Source: http://groupon.com
4. Green Vegetarian Cuisine Restaurant
This energy-efficient restaurants lives up to its name by offering customers an eco-friendly dining atmosphere and delicious, yet healthy food. Although Green Vegetarian Cuisine Restaurant is not completely vegan, it is completely vegetarian and offers the ability to change any meal from the non-breakfast menu into a vegan meal. The menu consists of spinach and mushroom enchiladas, portobello steak, fajita bowls, imitation chicken, salads, and stir fries. Anything with cheese can be swapped for vegan cheese for an additional $1. Green Vegetarian Cuisine Restaurant has successfully operated three restaurant locations. Two are in San Antonio and the other one is in Houston. This restaurant even sells spice mixes and t-shirts. Stop into this eatery for an eco-friendly, fresh ingredient restaurant with numerous vegan options.
Website: eatatgreen.com
Location 1: Full Goods Building, 200 E Grayson st, San Antonio Phone: 210-320-5865
Location 2: 10003 NW Military, Suite 2115, San Antonio Phone: 210- 233-1249

Source: http://tripadvisor.com
Although Texas is known for its barbecues and steaks, San Antonio is giving the state a new light. With great vegan eateries scattered all over the city, San Antonio is paving the way for the animal-friendly and health-conscious population.

This article was written by: